MC9090-G Handheld Mobile Computer [discontinued]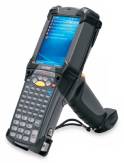 *** This product has been replaced by MC9190-G ***
Building on the success of the MC9000 family, the MC9090-G rugged mobile computer from Motorola provides mobile workers throughout the supply chain with a flexible always-on data connection to critical business applications and systems as well as to co-workers and other business associates.
Equipped with the latest advances in mobile technology, the MC9090-G provides support for the richest enterprise applications, empowering mobile workers to capture and access critical business information in real time.
Designed for workers inside your four walls, the MC9090-G offers advanced data capture options and integrated wireless LAN/PAN plus a comfortable ergonomic pistol grip to enable real-time data collection in scan-intensive environments — in the warehouse, on the loading dock, out in the yard, and in the back room or out on the sales floor of a retail operation.
Features
Integrated 802.11 a/b/g WLAN radios
Flexible always-on connection maximizes mobile worker productivity, while technology differentiating features deliver superior, reliable wireless connectivity; compatible with any WLAN in the world.
Exceptionally rugged construction
Passes the industry's most stringent drop and tumble tests; IP64 sealing rating; integrated internal antennas.
Common Motorola mobile device platform
Maximizes the value of your applications  — and software development investment.
Forward scanning, pistol grip ergonomics
Reduces user fatigue in scan intensive applications.
Intel XScale PXA270 processor: 624 MHz; enhanced memory architecture for persistent storage
Supports simple to complex multimedia applications.
Windows Mobile 5.0 or Windows CE 5.0
Provides choice of familiar Windows environment or robust application-specific environment.
1D, 2D, DPM and image capture capabilities
1D Standard-range scan engine, 1D Extended-range scan engine, omni-directional imaging engine, and DPM engine provide real-time data capture and access to business information to enable process automation, error-proofing, and track and trace capabilities.
WPAN: Bluetooth v1.2
Wirelessly synchronize, print, and connect to a headset.
Large display: exceptional clarity and contrast
Easy to read in a variety of lighting conditions.
Specifications
PERFORMANCE CHARACTERISTICS
Data capture options
1D standard range scan engine; 1D extended range scan engine; omni-directional imaging engine reads 1D and 2D symbols omni-directionally, and captures images and signatures; DPM engine reads a wide variety of DPM marks including data matrix marks applied by dot peening, laser etching, molding, stamping or casting methods to multiple substrates such as metal, plastic or glass
Expansion
SD/MMC card
Memory (Flash/RAM)
64 MB/64 MB (Win CE); 64 MB/128 MB (Win Mobile)
Operating system (OS)
Microsoft Windows CE 5.0 Core Version, Microsoft Windows Mobile 5.0 Premium
Processor (CPU)
Intel® XScale™ Bulverde PXA270 624 MHz processor
Windows CE
Yes
Windows Mobile
Yes
PHYSICAL CHARACTERISTICS
Dimensions (HxWxD)
7.6 x 3.6 x 9.1 in. (19.3 x 9.1 x 23.1 cm) H x W x D
Display resolution
3.8 in. QVGA mono or color (Win CE); 3.8 in. QVGA color only (Win Mobile)
Display type
Backlit color
Keyboard
28, 43 and 53-key; terminal emulation (5250, 3270, VT)
Weight
25 oz. (709 g) (includes battery, scanner and radio)
WIRELESS DATA COMMUNICATIONS
Antenna
Internal
Data rate
802.11a: up to 54 Mbps, 802.11b: up to 11 Mbps, 802.11g: up to 54 Mbps
Frequency range
802.11a – 5 GHz, 802.11b – 2.4 GHz, 802.11g – 2.4 GHz
Output power
100 mW international, 100 mW US
WLAN
825
WPAN (Bluetooth Support)
Bluetooth v1.2 with BT Explorer
APPLICATION DEVELOPMENT

Application development
PSDK, DCP and SMDK available through Motorola Support central web site
REGULATORY SPECIFICATIONS
EMC
FCC Part 15 Subpart B, EN 301 489-7, IEC 60601-1-2, EN 55024, EN 301 489-17, EN 55022, EN 301 489-1, ICES 003 Class B, EN 61000-3-2, EN 61000-3-3
Electrical safety
UL 60950-1, CSA C22.2 No. 60950-1, IEC 60950-1, EN 60950-1
Environmental
RoHS Directive 2002/95/EEC
Laser safety
EN 60825-1, IEC 60825-1, 21CFR1040.10
RF exposure
787,788,789,2835
Radio
FCC Part 24, EN 301 511, FCC Part 22, EN 301 893, EN 300 328
USER ENVIRONMENT
Charging temperature
32° to 104° F (0° to 40° C)
Drop specification
Multiple 6 ft. (1.8 m) drops to concrete the operating temperature range
Electrostatic discharge (ESD)
+/- 15 kVDC air discharge; +/- 8 kVDC direct discharge; +/- 8 kVDC indirect discharge
Environmental sealing
IP64 (electronic enclosure, display, keypad)
Humidity
5 to 95% non condensing
Operating temperature
-4° to 122° F (-20° to 50° C)
Storage temperature
-40° to 158° F (-40° to 70°)
Tumble specifications
2,000 1 m. tumbles at room temperature (4,000 hits)
MC9000 Series Mobile Computer Torture Test Video Clips
Wondering how tough these products are?
Check out these video clips:

Other information you might be interested in:
-->