MK2200 Micro Kiosk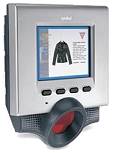 This space-saving device deploys and runs multimedia, price verification and bar code scanning applications throughout your retail environment. This versatile, interactive self-service kiosk empowers you to grow your sales opportunities while reducing your internal store operation costs.
It features a full color VGA display with touch screen that supports bar code scanning, which allows customers to access item information. Audio and video support enables the creation of a wide variety of interactive multimedia applications. Wireless and Ethernet connection capabilities allow you to connect your MK2200 Micro Kiosk to your network from virtually anywhere in your store environment.
Features
Ideal for interactive applications
Multimedia kiosk — with 6.4 in./16.26 cm diagonal, full VGA display, 400 MHz CPU and stereo speakers — designed for customer- and employee- facing interactive applications including those using bar code scanning, audio and video.
Full network connectivity
Connects to your network from anywhere over wireless (IEEE 802.11a/b/g) or wired (802.3) Ethernet networks.
Flexible multimedia support
Stereo sound, headphones, and video allow creation of more dynamic applications.
Touch screen and four programmable function buttons
Improves interactive applications with uses such as menu navigation and item selection.
Easy to use operating system
Reduces application development time with Microsoft® Windows® CE .NET and standard Windows development tools.
Trim, ergonomic design
Mounts easily, anywhere in the store — on walls, end-caps, shelves or poles — with a depth of less than 4 in./10 cm.
Printing support
C, C++, C#, VisualBasic.net and browser capability allows MK2200 to connect to many popular series printers.
Award-winning scan engine technology
Reads all common bar codes found in retail environments.
Magstripe reader (optional)
Users can swipe a card for identification and account access.
Specifications
Dimensions:
10.9 in. H x 8.9 in. W x 3.6 in.
27.7 cm H x 22.6 cm W x 9.1 cm
Weight:
3.4 lbs/1.55 kg (typical)
Display:
Size: 6.4 in./16.26 cm diagonal
Resolution: 640 x 480 pixels (Full VGA)
active matrix
Resistive touch screen: Standard
Power
12-24 VDC/24 Watts; Supports
Power-over-Ethernet (Motorola Bias-T)
Buttons:
4 programmable buttons
Expansion Capabilities:
One type II/III PC card
Data Ports:
RS-232: Powered (5V/500 mA)
Ethernet: 10/100 Mb 10-BaseT
Audio:
Speaker: Two integrated stereo speakers
Headphone Jack: Standard 3.5 mm jack
Microphone: Located under left side of display
Scanner:
Scan Modes: 1D: Omnidirectional scanning
2D: Smart raster
Light Source: 650 nm laser diode
Decode Capability:
1D Symbologies: All standard retail codes
including: UPC/EAN, Code 39, Interleaved
2 of 5, Code 128, Codabar, MSI Plessey,
2D Symbologies: PDF417, MicroPDF,
composite codes
Performance Characteristics
CPU:
Intel XScale™ (400 MHz)
Operating System:
Windows CE .NET 4.2
Browser:
Internet Explorer CE version 6.0
Audio/Video via
Windows Media
Player:
Audio: WMA and MP3
Images: GIF, JPEG and BMP
Video: WMV and MPEG
Flash Memory:
64 MB or 128 MB
RAM:
32 MB or 128MB DRAM
Communications:
Serial: RS-232
Ethernet: 10/100 Mbps Ethernet (802.3)
| | |
| --- | --- |
| Operating Temp.: | 32° F to 104° F/0° C to 40° C |
| Storage Temp.: | -13° F to 158° F/-25° C to 70° C |
| Humidity: | 5% to 80% (non-condensing) |
Wireless LAN Data Communications
WLAN:
IEEE® 802.11a/b/g (Note 802.11a not
available where prohibited or restricted)
Frequency Range:
All country dependent:
802.11a – 5GHz
802.11b – 2.4GHz
802.11g – 2.4GHz
Output Power:
100mW U.S. and international
Data Rates:
802.11a: up to 54 Mbps
802.11b: up to 11 Mbps
802.11g: up to 54Kbps
Antenna:
Internal
Web Kiosk Software Suite with Source Code,
C# Kiosk Software Suite with Source Code,
AirBEAM Smart,
Remote Device Manager (Configuration Utility) version 2.5,
On-board FTP Server,On-board SNTP Client
Application Development Tools
For Web developers, the MK2200 ships with a full complement of ActiveX Object for application development. For a reference implementation with sample source code see the Web Kiosk Software Suite.
For Web developers, the MK2200 supports PocketBrowser development environment.
For C/C++ developers, the MK2200 provides support for application development using Microsoft's eMbedded Visual C++ 4.0 SP3.
For C# / VisualBasic.NET developers, the MK2200 provides support for application development using Microsoft's Visual Studio .NET 2003. For a reference C# implementation with sample source code see the C# Kiosk Software Suite.
Motorola SDK components required to support the development environments listed above are available from Motorola's Developer Zone Web site athttp://devzone.symbol.com/
Peripherals and Accessories
Mounting Options:
Wall-Mount Bracket; Pole-Mount Bracket;
Conforms to the VESA 100 mm mounting
standard for attachment of third-party,
off-the-shelf mounting solutions
Optional Accessories:
3-track Magnetic Stripe reader
Electrical Safety:
Certified to UL60950-1/CSA C22.2 No.
60950-1, EN60950-1/IEC60950-1
Laser Safety:
CDRH Class II, IEC Class 2
EMI/RFI:
FCC Part 15 Class B, ICES-003 Class B.
European Union EMC Directive, Australian AS3548
Environmental:
European RoHS compliant
Accessories
| | | |
| --- | --- | --- |
| Mag Stripe Reader | This mounting kit is designed to place the MK1200 or MK2200 Micro-Kiosk anywhere in the store to maximize floor space. | This easy-to-install kit enables deployment of the Motorola Micro Kiosks in a variety of locations throughout your store. |

Other information you might be interested in:
-->