Hand Pallet Trucks – DF Series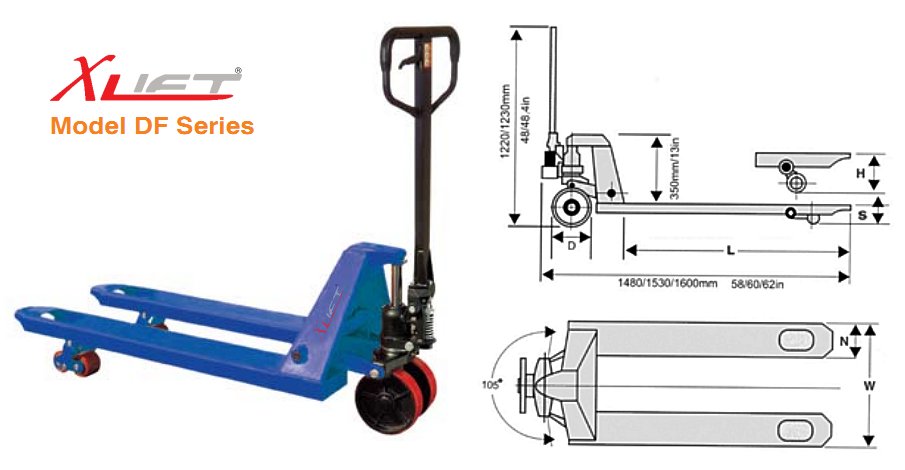 Features:
Long lifetime German designed hydraulic pump with an anti-overload system.
Revolutionary hydraulic pump design allows smooth lowering control with hand.
Tapered fork ends and fork tip rollers facilitate entry / exit of pallets.
Heavy duty one piece "C" section fork for the greatest strength and durability.
DF2500N
| | |
| --- | --- |
| Capacity | : 2500 kg |
| Overall Forks Width (W) | : 540 mm |
| Fork Length (L) | : 1150 mm |
| Fork Width (N) | : 160 mm |
| Min. Fork Height (S) | : 75 /85 mm |
| Max. Fork Height (H) | : 200 mm |
| Steering Wheel | :  OD 200 x 50W |
| Load Wheel | : OD 74 x 93W / 80 x 93W |
DF2500W
| | |
| --- | --- |
| Capacity | : 2500 kg |
| Overall Forks Width (W) | : 685 mm |
| Fork Length (L) | : 1220 mm |
| Fork Width (N) | : 160 mm |
| Min. Fork Height (S) | : 75 /85 mm |
| Max. Fork Height (H) | : 200 mm |
| Steering Wheel | :  OD 200 x 50W |
| Load Wheel | : OD 74 x 93W / 80 x 93W |
DF3000N
| | |
| --- | --- |
| Capacity | : 3000 kg |
| Overall Forks Width (W) | : 540 mm |
| Fork Length (L) | : 1150 mm |
| Fork Width (N) | : 160 mm |
| Min. Fork Height (S) | : 75 /85 mm |
| Max. Fork Height (H) | : 200 mm |
| Steering Wheel | :  OD 200 x 50W |
| Load Wheel | : OD 74 x 93W / 80 x 93W |
DF3000W
| | |
| --- | --- |
| Capacity | : 3000 kg |
| Overall Forks Width (W) | : 685 mm |
| Fork Length (L) | : 1220 mm |
| Fork Width (N) | : 160 mm |
| Min. Fork Height (S) | : 75 /85 mm |
| Max. Fork Height (H) | : 200 mm |
| Steering Wheel | :  OD 200 x 50W |
| Load Wheel | : OD 74 x 93W / 80 x 93W |

Other information you might be interested in: