Hand Pallet Trucks – AC Series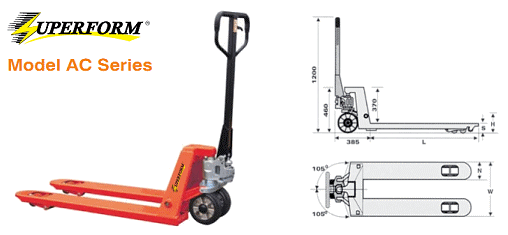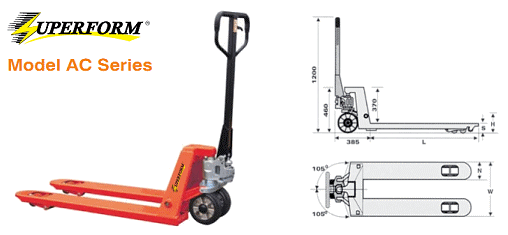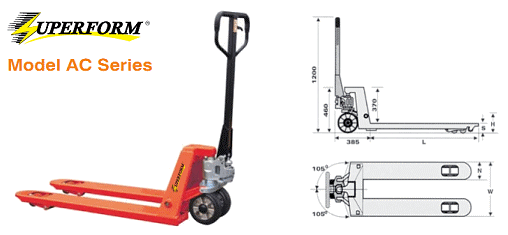 Features:
Durable & proven  ergonomic handle.
Fail-proof, self-contained pump with a special German sealing system.
Superior  pump  design  for  lifting  heavy  loads  with  minimum effort.
Specially  designed  C-frame  forks  provide  for  additional structural integrity.
Quality  certified  as  fit  for  sale  in  Germany  and  the  European Union.
Galvanized housing, sturdy construction with hard chromium plated piston and overload protection.
'Anti-Impact'  feature  lowers  fully  loaded  trucks  gently  even when release valve lever is completely squeezed.
AC2500EN
| | |
| --- | --- |
| Capacity | : 2500 kg |
| Overall Forks Width (W) | : 450 mm |
| Fork Length (L) | : 1150 mm |
| Fork Width (N) | : 160 mm |
| Min. Fork Height (S) | : 75 /85 mm |
| Max. Fork Height (H) | : 200 mm |
| Steering Wheel | :  OD 200 x 50W |
| Load Wheel | : OD 74 x 93W / 80 x 93W |
AC2500NS
| | |
| --- | --- |
| Capacity | : 2500 kg |
| Overall Forks Width (W) | : 520 mm |
| Fork Length (L) | : 800 mm |
| Fork Width (N) | : 160 mm |
| Min. Fork Height (S) | : 75 /85 mm |
| Max. Fork Height (H) | : 200 mm |
| Steering Wheel | :  OD 200 x 50W |
| Load Wheel | : OD 74 x 93W / 80 x 93W |
AC2500N
| | |
| --- | --- |
| Capacity | : 2500 kg |
| Overall Forks Width (W) | : 540 mm |
| Fork Length (L) | : 1150 mm |
| Fork Width (N) | : 160 mm |
| Min. Fork Height (S) | : 75 /85 mm |
| Max. Fork Height (H) | : 200 mm |
| Steering Wheel | :  OD 200 x 50W |
| Load Wheel | : OD 74 x 93W / 80 x 93W |
AC2500W
| | |
| --- | --- |
| Capacity | : 2500 kg |
| Overall Forks Width (W) | : 685 mm |
| Fork Length (L) | : 1220 mm |
| Fork Width (N) | : 160 mm |
| Min. Fork Height (S) | : 75 /85 mm |
| Max. Fork Height (H) | : 200 mm |
| Steering Wheel | :  OD 200 x 50W |
| Load Wheel | : OD 74 x 93W / 80 x 93W |
AC2500W
| | |
| --- | --- |
| Capacity | : 2500 kg |
| Overall Forks Width (W) | : 685 mm |
| Fork Length (L) | : 1500 mm |
| Fork Width (N) | : 160 mm |
| Min. Fork Height (S) | : 75 /85 mm |
| Max. Fork Height (H) | : 200 mm |
| Steering Wheel | :  OD 200 x 50W |
| Load Wheel | : OD 74 x 93W / 80 x 93W |
AC3000N
| | |
| --- | --- |
| Capacity | : 3000 kg |
| Overall Forks Width (W) | : 540 mm |
| Fork Length (L) | : 1150 mm |
| Fork Width (N) | : 160 mm |
| Min. Fork Height (S) | : 75 /85 mm |
| Max. Fork Height (H) | : 200 mm |
| Steering Wheel | :  OD 200 x 50W |
| Load Wheel | : OD 74 x 93W / 80 x 93W |
AC3000W
| | |
| --- | --- |
| Capacity | : 2500 kg |
| Overall Forks Width (W) | : 685 mm |
| Fork Length (L) | : 1220 mm |
| Fork Width (N) | : 160 mm |
| Min. Fork Height (S) | : 75 /85 mm |
| Max. Fork Height (H) | : 200 mm |
| Steering Wheel | :  OD 200 x 50W |
| Load Wheel | : OD 74 x 93W / 80 x 93W |

Other information you might be interested in: